THE SOLUTION
DRYMAX
THE SCIENCE OF KEEPING SKIN DRY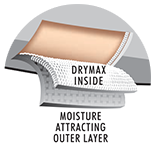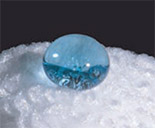 Dryness Only 2 Different Technology Layers Can Provide – The laws of physics dictate that no single fiber technology can attract and repel moisture at the same time. To overcome
this, drymax products utilize two opposite type fiber technologies interwoven to form inner and outer layers.
Super Hydrophobic Fiber Technology – drymax fibers do not wick because they are Super Hydrophobic (moisture repelling). At the molecular level, moisture doesn't adhere to the inner layer of drymaxterry loops.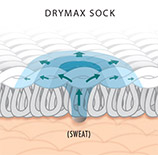 Removing Sweat From The Skin – Because moisture does not adhere to the drymax fibers, they are able to mechanically lift sweat off the skin like a squeegee and instantly transfer it into the moisture attracting outer layer without retaining moisture on the inside.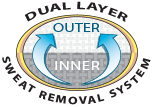 A Self Contained System – Guaranteed to Work – We designed a self-contained Dual Layer Sweat Removal System so we did not have to rely on the shoes to help keep feet dry. This system works so well we guarantee it will keep feet dry and comfortable in all types of footwear, in cold, hot and even wet conditions.
WHAT YOU WEAR ON YOUR FEET AFFECTS COMFORT AND PERFORMANCE. CHOOSE YOUR SOCKS WISELY – YOUR FEET DEPEND ON IT.